I FINALLY, after all the heartache and hair pulling, FINALLY got round to finishing the video.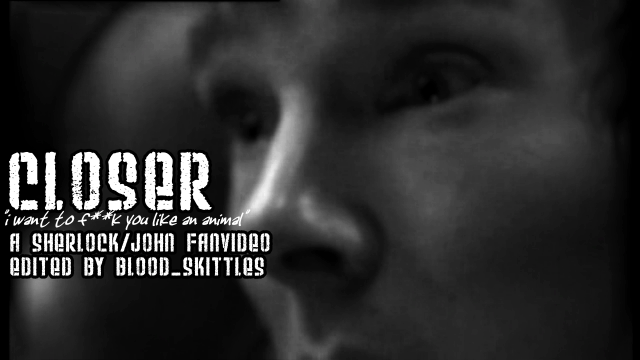 Video
; Sherlock/John: Closer by Nine Inch Nails
Edited by
; Blood_Skittles
On
; AVS Video Editor (the most frustrating video software on this universe)
Inspired by
; The Cumberbatch in skin tight jeans.
Narrative
; Frustrating as it may be, Sherlock and John can't stop thinking about each other.
And when I say thinking about each other, I mean masturbating whilst thinking
about each other. So yeah... don't say I didn't warn you :)
BONUS WARNING
; the song contains
EXPLICIT LYRICS
and the video contains explicit suggestive sexual faces.
This video kind of has a few possible narratives in my mind;
a)
Sherlock is a little obsessed with John and wants to sex him up but he can't because that's just not in his moral principle thing to do and he's getting very very sexually frustrated about it.
b)
John wants Sherlock to do bad things to him. Like whip him with his riding crop and
strangle him and stuff. But obviously he wouldn't ever DREAM of asking him to
actually DO any of those things...except he does dream of asking him hence why he's always
waking up sweaty and horny.
c)
Sherlock and John just can't stop thinking about each other and ALL they want to do is
have glorious egotistical hot angsty shags. But they don't. So they just masturbate over
each other a lot.
d)
Sherlock and John are actually at it. Secretly. But everyone knows. And it's embarrassing
and frustrating because 1. John still can't accept the fact that he's totally gay for Sherlock
and 2. Sherlock hates the fact that he is even SUCCUMBING to such emotional/physical weaknesses.
So yes.
OBVIOUSLY
I've put way too much effort and
TIME
into this video.
However you may pick your own narrative, but mostly...just sit back and enjoy :)